All live entertainment events start at 8.30pm on a Saturday (unless otherwise stated)
2022
26th February – SI ASTBURY
A local singer, Si Astbury, is proving to be quite popular in the area. Come along and sing and dance.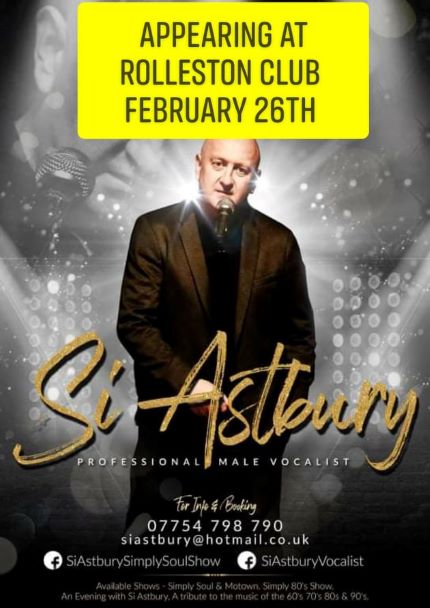 12th March – BLACK CAT BOOGIE
A new band to Rolleston Club, Black Cat Boogie play retro, swing, rock n roll and anything 50s.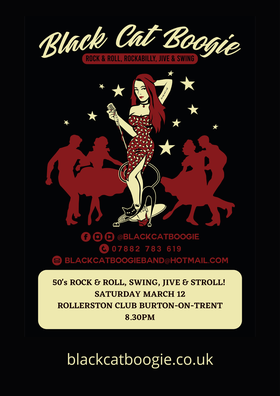 Here's a preview of what's in store:
https://www.youtube.com/channel/UChmq2u6Kz5TVPTB6bZoNAPw
26th March – STRANGE COMPANY
A great live band playing a range of music to sing and dance to. Strange Company are a widely experienced six piece band from Derby. The music covers a range of genres featuring female and male vocals and great harmonies that take the music and the show to another level.
2nd April – DARK HORSES
One of our favourite and popular bands is back – Dark Horses.
23rd April – G FORCE
A great duo, performing classic rock, pop and soul.
14th May – THREES COMPANY
This great group play popular songs to sing and dance to from the decades.
21st May – SILICONE TAXIS
Another favourite band coming back to play at Rolleston Club. A great band with a huge playlist – and plenty of encores!
11th June – STRANGE DAYS
Strange Days are long established Derbyshire versatile pop,soft rock, etc styles covers band with the odd original song and prog rock songs.
16th July – MURDER OF CROWS
A popular and well liked local band playing Rock/Punk covers. They are influenced by different bands from metal to punk, bringing all their styles to create an unforgettable mix.
LATER IN THE YEAR …
24th September – LETITBEATLES (Ticket only event)
Super excited to have booked this amazing tribute band to the Beatles. Check out their videos and you'll see we are in for a treat. Tickets and prices will be announced nearer the date.
https://www.facebook.com/TheLetItBeatlesBand/
https://www.facebook.com/richard.spence.562/videos/10156075942931345/?d=n