4th December 2021
SOULLSTON
Our regular special events Northern Soul and Motown evening, organised by Jason Hunt and his crew of DJs. Ticket only
11th December 2021 8.30pm
Still trying to fill this spot with live entertainment as we've been let down last minute. Will update as soon as know (28/11/2021)
24th December CHRISTMAS EVE
Christmas Eve disco.
For families from starting at 6pm to 8.30pm. Grown up music from 8.30pm onwards, although families can stay and dance away.
There's also food available:
Burger/cheeseburger & chips * scamp & chips * lasagne & chips/salad with garlic bread * mozzarella sticks with dip * crispy chicken wrap * chips (plain/gravy/curry sauce) * sandwiches
Tickets £4 for the adults from the Club.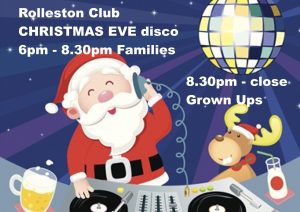 NEW YEAR'S EVE
The Detroits will be singing and dancing with us until after the bells toll at midnight. Tickets only.