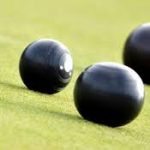 The bowling green is now closed for the Winter. It will re-open in March 2022.
The Rolleston Club bowls AGM will be held on Monday, 24th January 2022 7.30pm in the lounge, and all existing bowlers and anyone wishing to participate in a team, are welcome to attend.
The club operates a very active Bowls Section with 14 different teams competing for Rolleston Club. Nick Parr is the Bowls Secretary and active member and trainer of Bowls for beginners. If you are interested in having basic bowls training the club are prepared to organise training sessions with Nick free of charge on afternoons/early evenings when the bowling green is available. All age groups are catered for in both the men's and women's sections and for individual teams of seniors you have to be 55+. Matches take place on most days of the week but when there is no game members can use the facilities to practice or gain an insight into the game of bowls.