Christmas is just around the corner and we have a few things going on here at Rolleston Club. We'll start with the food offerings.
Firstly, we will be doing Christmas lunches on Wednesday & Thursday, 8th and 9th / 15th and 16th December only, from 11.30am to 1.30pm. It is £12.95 per person for two courses and there is a choice of turkey or ham for the main course.You can choose either the starter or the dessert. There is a £5 deposit per person payable when you book and you can come in and book over the bar. You will need to let us know your choices at the booking as well any dietary requirements so we can accommodate accordingly.
Spaces are tight, so get in quick to book.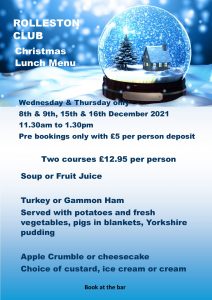 Secondly, we are pleased to announce we will be offering a Christmas Day menu. It is for three courses with a cheeseboard and coffee/tea with mints included between 12 noon and 2.30pm. If you require more than six, please call us to discuss it so we know we can fit you all in.
It is £45 per adult and £22.50 per child (up to 14 years of age) Full payment is required at the time of booking with refunds available up until the 18th December 2021. You can pay in cash at the bar or phone 07985037121 to pay by debit card (the lunch is provided by a third party provider). There is also a Paypal option.
You can complete the booking form listed here and email to secretary@rollestonclub.org.uk.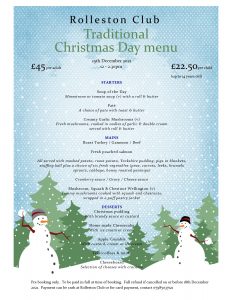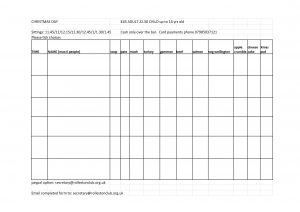 There is the Christmas disco on Friday, Christmas Eve. Between 6pm and 8.30pm it is for families, so the DJ will play music suitable for children with a few games thrown in. From 8.30pm, is the grown ups music but families can stay, if they want to.Tickets are £4 for adults and are available behind the bar.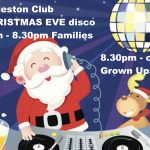 The Christmas Bingo is on Friday, 17th December and Ken and his team are putting on a buffet and having a bit of a Christmas party. Just remember, you need to be a member to play bingo at Rolleston Club.
The Wednesday Quiz night is having their Christmas party on the 22nd December from 8pm. Bob is the quiz master for the evening and the questions will be all about Christmas. There is also food available and a great raffle. We also have a game of the Price of Right. Christmas jumpers are a must!